Top 10 Gifts Ideas Every Blogger Will Love
Are you thinking of buying a gift for the blogger in your life?
As a fellow blogger, I'm here to admit, we're a unique breed of human. The things that we want and need are not always mainstream.
Makeup? Clothes? New phone?
No thanks.
Just help me stay on top of my blogging game, please!
Over the past few weeks, I surveyed over two hundred part-time and full-time bloggers. I asked them about the top gifts on their blogging wish list. And I'm here to share that list with you…to help you (and my husband) choose the perfect gift for that blogger or aspiring entrepreneur in your life.
Here are the top 10 gift ideas for bloggers (as requested by REAL bloggers)! Be sure to pin this article on Pinterest to help someone else who might need gift ideas!

Let's get to it!
This post probably contains affiliate links, which means I will make a small commission if you make a purchase, at no extra cost to you. Thank you for fueling my coffee habit!
GIFT IDEAS FOR BLOGGERS

We're breaking these gifts down in order, starting with the most requested.
#1 : WEBSITE HOSTING
Coming in hot with our number one blogger request: website hosting.
Website hosting essentially provides a safe space for our blog to live on the internet. So, it's kind of a big deal.
Wanna make a blogger's day? Gift them with a year of website hosting.

You'll need access to their hosting account to pay for their website hosting directly. Or, you can buy a prepaid gift card and include a personalized note that says the gift is for website hosting!
There's a reason that this is # 1 of our gift ideas for bloggers – we need and love our website hosting.
If you know a blogger that is just getting started on their journey, you can also purchase hosting for them directly using the link above (you just need their domain name of choice)!
# 2 CAMERA AND PHOTOGRAPHY GEAR
Most bloggers rely heavily on images and photography, for their websites and social media channels. So, it makes sense that we all have a fancy DSLR camera and photography gear on our wish list.
Here are a few gift ideas that me and my fellow bloggers want, need, and love in this category:

You could also consider buying something like image presets, photoshop, or another software program to help edit or improve image quality.
Soooo many options!
# 3 AUTOMATION TOOLS
As bloggers, we have a lot on our plate and we have to be present in a lot of places. Automation tools make life SO MUCH EASIER for us.
One of the best gift ideas for bloggers is the gift of automation!
Hook that blogger up with ONE YEAR OF TAILWIND, the best automation tool for Pinterest and Instagram.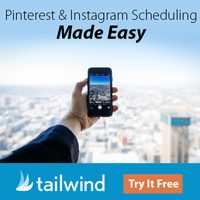 # 4 EMAIL MARKETING SERVICE

Here are a few of the best email marketing services for bloggers:

You can usually get a hefty discount if you purchase one year of Mailerlite up front, so that is what I recommend (I think it was around $80 for me).
ConvertKit is a little more pricey, but it's also a favorite among many bloggers, so it's worth looking into!
# 5 NOTEBOOKS AND STATIONERY
I think we're all suckers for notebooks and pencils over here in the blogging realm! I wasn't even surprised that this gift idea landed in the # 5 spot on our list.
Throw a few of these cute notebooks, pens, and a desk organizer into a gift bag for your favorite blogger, and they will be on cloud nine!
# 6 BLOGGING COURSES
Every blogger wants to grow, learn, and improve their skills. Most of us dream of breaking that income barrier and hitting six figures one day…but we need a little help to get there!
If I could do one thing differently as a beginner blogger, I would've invested a little more in education and training courses so that I wasn't scrambling to piece things together.
If you know a blogger that is SERIOUS about this business, then gift them with some helpful education! Here are a few great courses to consider:
# 7 BLOGGER PROPS AND MERCHANDISE
These pretty much speak for themselves, haha. Every blogger needs some photo props and some blogger merchandise!

# 8 PLANNERS
I highly recommend THIS PLANNER for every blogger out there!
And here's a backup option, if that one is sold out.
# 9 BOOKS
These are some of the best-selling books in the entrepreneur space, and most bloggers can relate to and appreciate them! I still have a few of them on my own list.
# 10 STOCK PHOTOS
Last but not least, most bloggers also use stock photos to supplement their own images. A monthly or annual photo stock membership is an awesome gift! These are my favorite stock photo sites: 
You seriously cannot even imagine how much these little things add up and make life easier for a new blogger or entrepreneur.
Surprise the blogger in your life with any of these awesome gifts, and you won't be sorry.
Know someone who needs these gift ideas for bloggers? Share this article and spread the word!